hot water electrode boiler installed in Bredebro varmeværk
The investment in, among other things, an electric boiler has meant that Bredebro heating plant has been able to remain stable where other heating plants have raised their heating prices.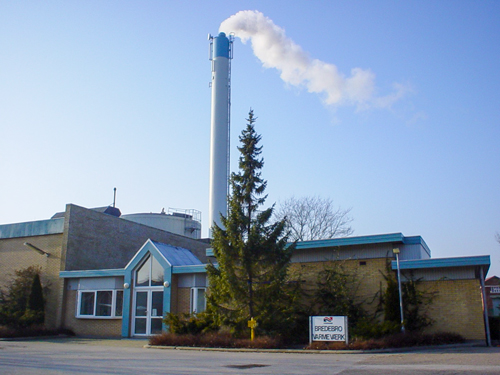 About Bredebro varmeværk
Bredebro varmeværk is an exciting forward-thinking company that most recently has installed an Parat high voltage electrode boiler. The boiler will reduce emissions and bring flexibility to their production setup. 
The company has a long and exciting background that goes all the way back to 1966, when it was established by some diligent businesspeople. Today, Bredebro Varmeværk is a state-of-the-art company with at flexible heat setup. Up until recently they had two production units - a natural gas-fired CHP plant combined with a wood chips system.
1) Gas fuel enginee
The gas engine produces both electricity and heat. Electricity production is sold at the free electricity market. The heat is extracted from the engine and the exhaust gas, which via heat exchanger and smoke exchanges heating the district heating water.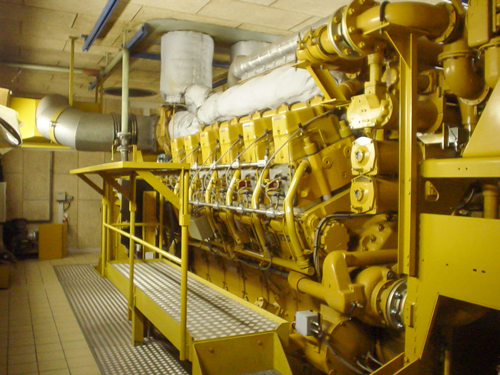 Technical data:
Engine: Caterpillar 3612 12 Cyl. V-engine with 3500 hp.
Generator: Kato 15kv 138A 1000 RPM
Heating effect: 3800 kWh
El power: 2875 kWh
Gas consumption: 670m3/h
2) Wood chips system
A part of the heat that is sent to the consumers come from their wood chip system. In 2016, a new accumulation tank will also be established to optimize operation at the plant.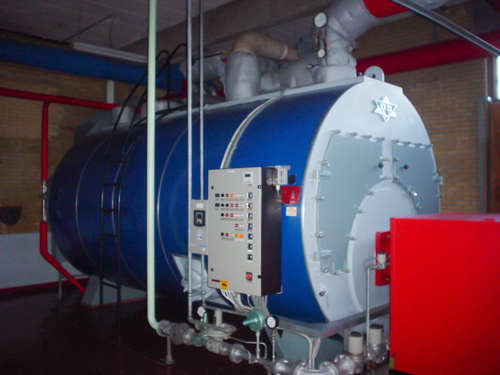 Technical data:
Silo: 220m3
Boiler: DANSTOKER 960KW
Flue gas scrubber: Tjæreborg Industry 450 KW
Accumulation Tank: 1600 m3
Investment in a Parat boiler keeps the heating price down 
In recent years the central heating company has reorganized the production to become more even more profitable and environmentally friendly. As part of this reorganization, Bredebro Varmeværk decided to have a high-voltage electric boiler installed. This has made them save money by using electricity when prices are cheap to produce hot water in their Parat electric boiler and save the hot water i both the boiler and accumulation tank. They can then use the heat at a later time when electricity prices are high and thus save a lot of money. They can actually make money by using the electric boiler when there is overproduction of wind turbine power and electricity prices are negative.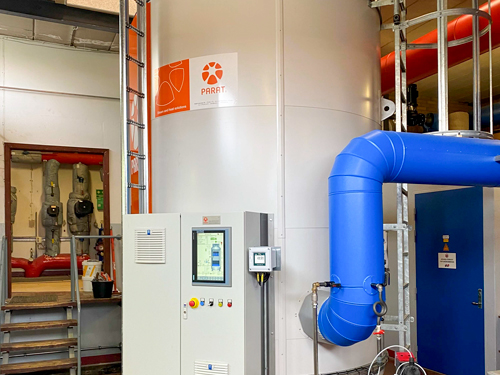 Great collaboration with AS SCAN and Tjæreborg Industri
In close cooperation, we tailor-made a system fully according to Bredebro Varmeværks needs. The result was a 7 MW boiler from Norwegian Parat Halvorsen, installed, commissioned, training and test run by Tjæreborg Industri and AS SCAN. 
"I had a great collaboration with both AS SCAN and Tjæreborg Industri. In correlation with the installation and commissioning of our new boiler, they were proactive and had good insight into all project details. It was also positive to experience that the project was delivered on time and that the installation was carried out at a high-quality level" says Per Jacobsen, Manager at Bredebro Varmeværk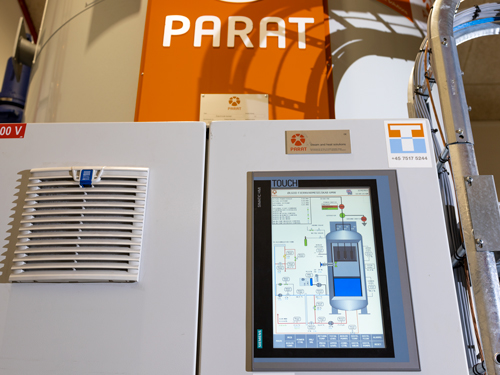 Three reasons choose a Parat boiler
There are many benefits of a Parat Halvorsen Boiler and some of the reasons why Bredebro went with this solution were a combination of 3 things:
High flexibility (From low idle to full load in 30 sec)
Compact design
Service
Fact about Bredebro electric boiler
Effect: 7MW 
Design pressure: 6 bar
Temperature: 110°C.
Up-regulation time: from standstill to 100% load Time < 30 sec
Up-regulation time: from standstill to 50% load Time < 15 sec