Equipment for ferries
Based on decades of experience in maritime operations and close cooperation with our customers we deliver robust, reliable and safe solutions for our clients. Where necessary, our experts are happy to develop completely new solutions to make your ferry state-of-the-art.
Can ferries sail in strong wind?
Small- to midsize ferries provide an important part of the infrastructure and cohesion of many countries. It is therefore essential that the ferries provide an efficient and operationally reliable service to the customers with passenger safety is the absolute priority. 
The increasing traffic on the water leads to ever increasing requirements. In addition, the vessels need to safely cope with currents, crosswinds and tidal changes in various water depths. AS Scan steering systems is designed to meet the requirements of modern ferries that must operate fast, precise and safe. We provide steering systems that provide a high degree of safety for your passengers and cargo, even in heavy shipping traffic. With that said, it is difficult to say at what sort of wind-speed ferries can sail? In many cases it is not the wind speed that stops a ferry from sailing - it's the sea conditions. The seas will vary considerably as do the ferries, so the only person who will know when a ferry can sail or has to stay in port is the ferry captain.
Choose AS SCAN for our passenger vessel
They are manufactured in a variety of sizes and configurations and are supplied fully adapted to suit small- and midsize ferries. Our steering gear requires little maintenance due to its robust and straightforward design.
Ferry references
Hybrid ferry - Disko Line
This hybrid ferry was ordered by the Greenlandic shipping company Disko Line. They have expanded their fleet of passenger ships with a newbuilding that is to be delivered by  Assens Skibsværft in 2023. The ferry can carry up to 60 passengers and will be the Disko Lines largest ship to date.
AS SCAN has delivered a complet steering system and winches to the ferry.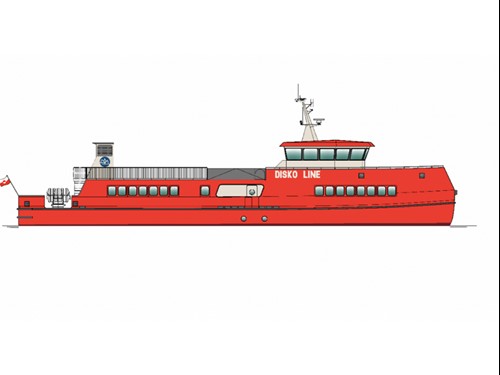 ÆrøXpressen
The ferry is owned by Ærø ferry company and sails between Marstal and Rudkøbing. ÆrøXpressen is a diesel-electric hybrid ferry and has room for 200 passengers and 30 cars. The ferry is built at Hvide Sande Shipyard. 
We have delivered a complete steering system and winches to the hybrid-ferry. 
This video is made by Søassurancen as a promotion for ÆrøXpressen.
Do you want to know more about our products?
We understand the importance of having the right parts, available in the right place, at the right time.